Overview
About JMS Customs
JMS Customs is a motorcycle garage located in Fayetteville, Arkansas which specializes in vintage motorcycles -- namely Japanese bikes from the '60s and '70s. Its founder was a young man before these motorcycles were considered vintage, and they've held a place in his heart ever since. His garage offers custom motorcycle builds, vintage motorcycle restoration, parts fabrication, and service & repair.
The Problem
Owner and founder, Jan, was retiring from his day job and devoting himself fully to the garage. Although a number of JMS Customs' builds had received international acclaim through publications and social media, the garage didn't have an identity or a website.
The Solution
JMS Customs needed an identity to distinguish itself as a garage. It also needed a website to provide information about the garage, legitimize it, list its services, showcase its portfolio, and provide a clear means of communication for users.
Identity
The identity was inspired by the garage's retrofuturistic builds -- particularly its debut build, and probably the most iconic, 'Purple Haze' -- as well as vintage motorcycle manuals and ads. More specifically, it drew influence from the manuals for Japanese motorcycles of the '60s and '70s -- JMS's specialty -- which were printed in greyscale and featured block letters, illustrated diagrams, background-less photos of motorcycle profiles, and table diagrams with thin borders.
JMS Customs was seeking to: 
- legitimize itself as a custom motorcycle garage. 
- stand out from the competition. 
- showcase its work. 
- answer frequently asked questions. 
- funnel communication through email rather than DMs.
User Needs
Based on JMS Customs' direct messages, three distinct user personas were apparent:
Custom Motorcycle Enthusiasts & Builders
Most users will likely be motorcycle enthusiasts and builders who have seen one of JMS's motorcycles on social media or in a publication and would like to learn more. These users need: 
- access to high-resolution photos. 
- information about each build, including specifications and a background story.
- a portfolio of JMS' work.
- information about JMS Customs.
Some users will visit the site because they want to work with JMS Customs. These users need: 
- information about JMS Customs, such as what the garage does and its locale. 
- a list of available services. 
- to see JMS Customs' portfolio of work. 
- a means of contact.
Motorcycle Showcase Curators & Writers
JMS Customs often receives inquiries from custom motorcycle publications regarding their builds for write-ups. These users need: 
- access to high-resolution photos with credit to their photographers. 
- information about each build, including a detailed list of specifications, background story, builder names, and contributor names. 
- information about JMS Customs. 
- to contact JMS Customs with questions.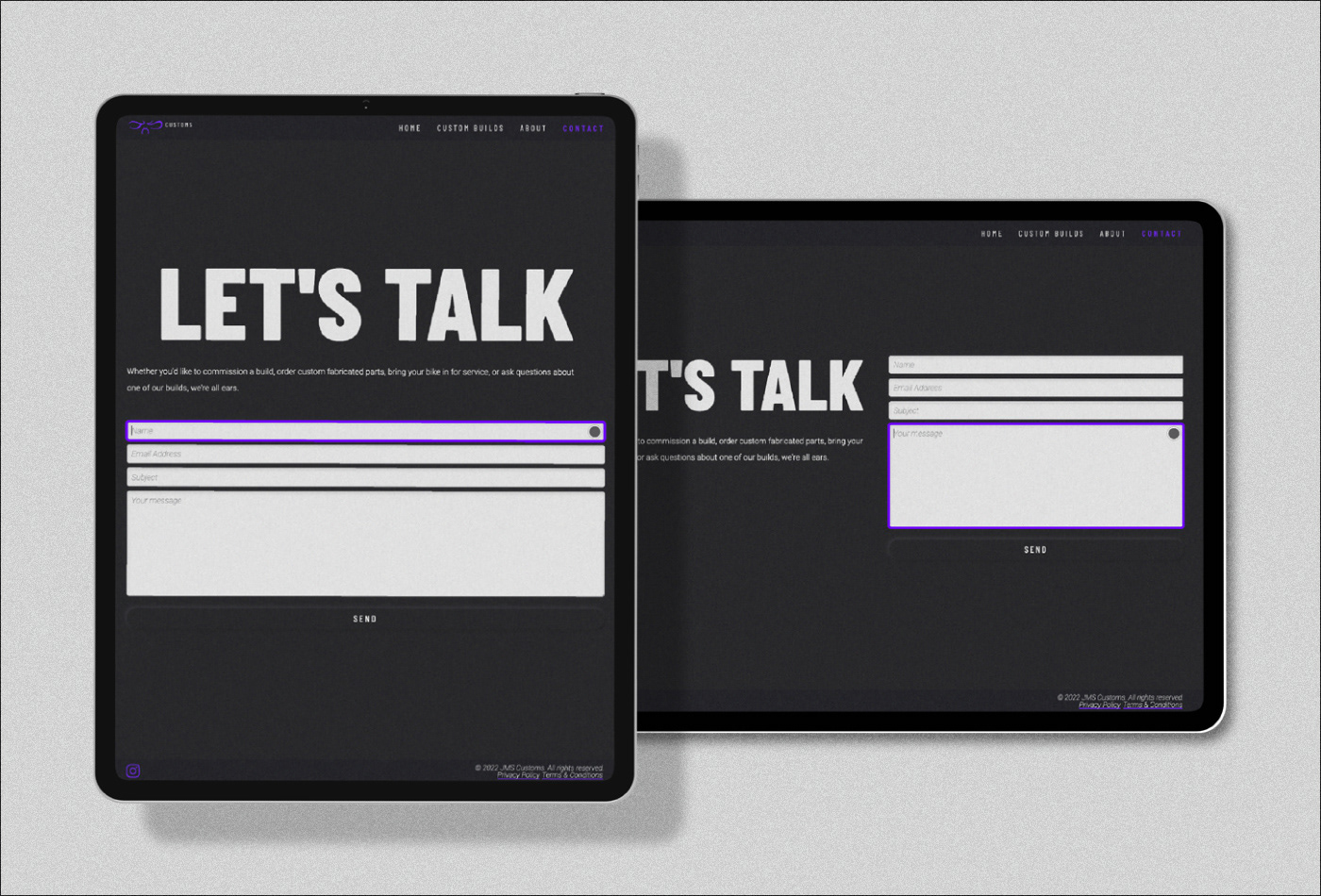 Identity System
Custom WordPress Website
Identity Design
UX Design
UI Design
Front-End Development (HTML, CSS, & some basic JS)
Copy-Write
Illustration
Photography Editing